Are you planning your wedding but needing to do so on a budget? Worry not! Nowadays, there are plenty of ways to DIY your wedding so that you don't have to break the bank. Buy only what you need to make your wedding both extravagant and affordable and leave the expensive one-use items at the store.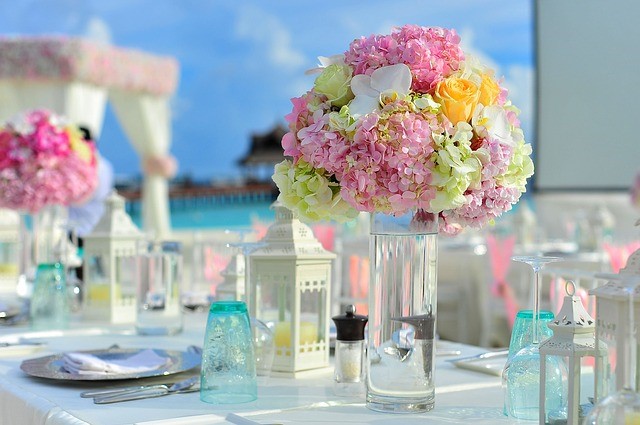 In this brief guide, learn all you need to know about how to make your own DIY wedding photo booth. Surprise your guests with a fun free-for-all corner of the wedding venue where you and your friends and family can take loads of memorable #selfies.
Remember all the smiles and laughter of your wedding day with these affordable (and cute) wedding photo booth ideas. Ready, set, click!
Glitter Pipe Backdrop
Glitter pipe backdrops are the hot new trend for DIY wedding photo booths. Here are three reasons why:
1. They are super affordable
2. Easily customizable
3. Look great with minimal effort
Pipe backdrops can range from having extremely intricate to fairly simple designs. If your wedding is vibrant, busy, with loads of colors, then a whimsical glitter pipe backdrop, with confetti or sequin curtains as props, would be a perfect addition to your wedding theme.
As pipe backdrops are easy to assemble and personalize, they also give you the perfect opportunity to get creative with your DIY photo booth. Integrate pastel colors and natural plants, like ivy in your DIY photo booth for weddings with a nature-inspired theme. For warm tones, gold spray paint, copper, and earthy flowers will look great as a backdrop.
Hanging Frame
When it comes to making a DIY wedding photo booth, the more you think outside of the box, the better. A super fun yet simple way to decorate for a DIY photo booth is to hang a fairly large-sized photo frame where your friends and family can pose as if they were inside the photo!
The result is an unforgettable DIY photo booth that's both affordable and easy to create. Go one step further by writing in white marker the names of the bride and groom with the date on the outside of the frame or add flowers and ivy around the edges to give it more character.
Handmade Props
For a sweet and silly DIY photo booth, there are some neat little handmade props that you can make to add to the fun. Draw and cut out wedding-theme objects and glue them to barbecue skewers to create a truly handmade prop. You can create mustaches, gifts, wine glasses, a "Mr. and Mrs." sign, lips, flowers, sunglasses shades, and much more!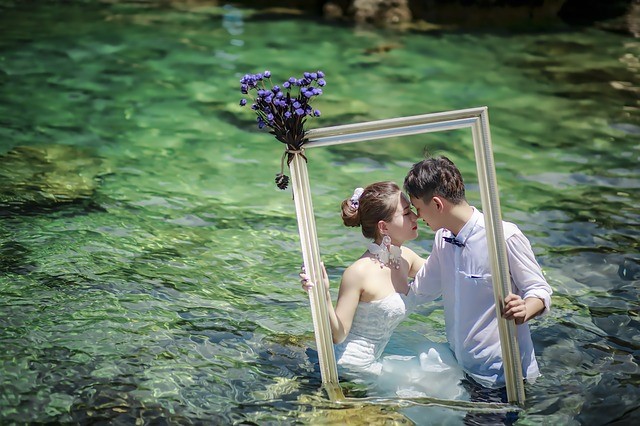 Polaroid Camera Basket
Right next to your DIY photo booth, set up a small decorated basket where your guests can take quick snaps of themselves with a Polaroid camera. Have your guests sign their photos on the back, with the date and a cute memo, before they drop it in the basket! After the wedding, you'll have a basket full of pictures of your family and friends having a great time making silly faces with their props. Make a scrapbook of all the photos or create a "wedding wall" in your home to display all the memorable moments of your special day.
DIY Wedding Photo Booth Ideas: Final Thoughts
Making your own DIY photo booth might take some precious time and effort away from your other event planning to-do errands, but the benefit of making your own photo booth will be even more rewarding once you see how well it fits into your theme and how much your guests love it!